PE & Sport
Year 5 Multi Schools' Football Tournament at Merlin Top Academy:
Our children played games against various teams and did not always win but they made lots of new friends and had a fun afternoon even if it was a bit cold!:
---------------------------------------------------------------------------------------------------------------------------------------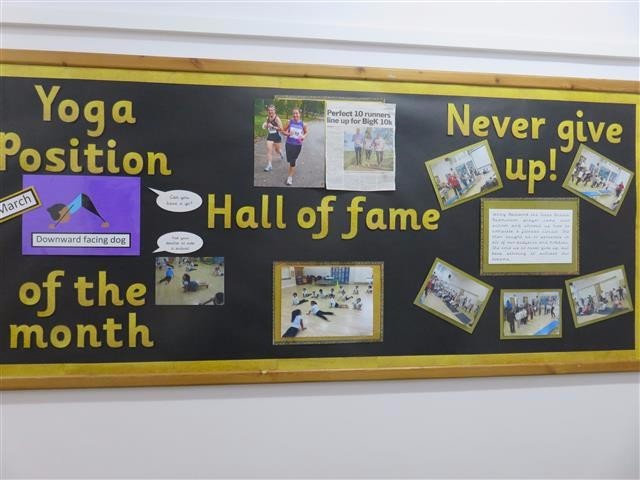 Keighley School's LAP organised a Triathlon Thursday, 13th July 2017.
Schools involved: Keighley St. Andrew's CE Primary, Victoria Primary, Our Lady of Victories, Holycroft Primary, Eastwood Primary, Parkwood Primary and Riddlesden St. Mary's Primary.
Venue: Keighley Leisure Centre and Victoria Park.
Aim: To bring children together, through sport, from different schools and communities in Keighley
Triathlon consisted of a 50 metre swim, 1 mile cycle and half mile run against the clock.
Oliver Barnes (Our Inclusion Manager and organiser)) said that it had been a great day due to extra help from Play Rangers and Yr7 Ambassadors from UAK. He would also like to give a massive thanks to British Cycling, Sustrans Bike Charity and the Keighley Leisure Centre for their support.
Annesa Ansari from 5MC said that it was "exhausting but realy good fun".
The winning team was Our Lady of Victories Primary. Congratulations!
Sport Premium Funding
To ensure the improvement of Physical Education and sport in primary schools, the government have committed to provide additional funding.
The expected sport funding Keighley St Andrew's will receive for the academic year 2017/18 is £19 430 This funding is ring fenced and therefore can only be spent on PE and sport provision. .
How we are spending our funding:
With the given sport funding we have been able to invest in a number of areas which as a result have greatly improved the quality of teaching within PE lessons, swimming and greater opportunities for children to fully participate in extracurricular sport. .We aim to establish a culture that enables and encourages all children to play and enjoy sport.
Use of funding

Impact

Cost

Sports Resources

Additional sports resources have been bought to ensure curriculum delivery and sports clubs can be run and to facilitate practicing at school in order to enter competitions (Dodge-ball, Archery etc.)

£1 000

Specialist PE teacher.

Subject Leadership

Quality of provision in PE will be sustained and improved. Our specialist PE teacher will work with classes across the school to provide support and development for less experienced teachers

Teachers' skills in teaching a range of sports will improve because the specialist teacher is able to give support with knowledge and understanding of a sport to assist planning, teaching and assessment. They will also ensure lessons are engaging, inclusive and provide additional challenge for those who show potential to develop their skills in sport to a higher level than could be managed by a class teacher working alone..

The specialist teachers will facilitate opportunities for children to take part in competitions in local schools in sports:

Karate Teacher

Yoga Teacher

Quality of teaching in PE will be sustained and improved through investment in new curriculum planning. "Inspire to Move" being implemented and monitored by the PE Leader. "Inspire to Move" offer online support, personal additional plans and skills development.

£13 531

£1 200

200

359

Competitions

Use of minibus, extra staff and equipment in order to achieve our Bronze for the School Games Mark

700

Fit Week and

Dance Teacher

A week of sports activities and healthy eating. Encouraging an active, healthy lifestyle. Extra coaches

Opportunities to perform. Quality of performances has improved and children have become more confident. This will be sustained and improved on as aspirations and confidence are built on year on year.

£550

£1890

Total Spend

£19 430
Swimming in KS2: National Curriculum Standard achieved : 6W - 73%
6H - 83%
----------------------------------------------------------------------------------------------------------------------------------------------------------------------
Local schools' football tournament:
---------------------------------------------------------------------------------------------------------------------------------------------